15 October 2019
PLEASE NOTE: The Viewpoints on our website are to be read and freely shared by all. If they are republished, the following text should be used: "This Viewpoint was originally published on the REVIVE website revive.gardp.org, an activity of the Global Antibiotic Research & Development Partnership (GARDP)."
The traditional model for the development and marketing of new chemical entity (NCE) antibiotics has collapsed. The companies which develop NCEs for resistant bacteria struggle to survive in the market. NCE development costs $200-$500 million per drug for the niche treatment of resistant bacteria, and requires high prices (>$300/day) to recover these development costs. However, these prices force hospitals to further "reserve" new antibiotics until all other options have been exhausted.
A challenging market
The company Achaogen provides a powerful example of the challenges AMR developers face. Achaogen was able to garner approval for its novel AMR targeting aminoglycoside plazomicin in July of 2018. However, over 8 months Achaogen was only able to sell about $300,000 worth of plazomicin, despite charging $10,000/course of treatment, spending more than $60 million to sell it and over $100 million to develop it. Despite a series of cost cutting measures, Achaogen filed for bankruptcy earlier this year as it was running out of money. With the bankruptcy process completed, past investors in Achaogen can never recoup their investments, much less make a return.
We need a new and faster route for reviewing the safety and synergistic efficacy of antibiotic combinations perhaps in the same way the flu vaccine or bioterror agents are studied and approved.
Other commercial stage AMR focused companies like Melinta, Paratek and Tetraphase are facing a similar situation. They are spending $100s of millions selling AMR focused products at high prices, but at the current pace of sales none is selling enough to cover these costs before they run out of funds. Even if sales dramatically improve, investors do not believe that they will ever recoup the $100s of millions in development costs. This reality has had a chilling effect on funding development of new treatments for infections by AMR microbes, especially NCEs. Large pharmaceutical companies recognized this challenge and facing poor returns many have moved out of the antibiotic development. By doing so they have removed the most important global marketing engine for new antibiotics.
Antibiotic combinations as a possible alternative
What can we do? A much cheaper alternative to NCE antibiotics such as those developed by Achaogen, Melinta, Paratek and Tetraphase, is to optimize combinations of existing antimicrobials with synergistic activity and concomitant slow evolution of drug resistance combinations with approved antimicrobials are being explored by many groups1,2,3. An intravenous combination of old antimicrobials is also being developed for the market by an SME and is in clinical trials. This combination is more effective against AMR strains than the individual drugs in vitro, in vivo and ex vivo4,5 and has the added advantage that it may have fewer side-effects due to low dose and may reduce the emergence of resistance. Such combinations cost one tenth of an NCE to develop (around $30-$50 million) and so can be sold for a lower price which can provide a positive return to the investors. The availability of such combinations is considerable. Clinicians may already be familiar with these old antibiotics and so may be less reluctant to use them in combination. Combinations of two or more old antibiotics are already widely used for common bacterial infections off label such as infective endocarditis and Helicobacter pylori-induced peptic ulcer and are authorised for tuberculosis, AIDS and malaria.
A long-term solution is required
But, even a low cost combination route will not solve the long term problem of the destruction of our antibiotic arsenal by ongoing antibiotic resistance. It is too slow because of current regulations. New resistant bacteria constantly appear. For example, patients who are treated with an old antibiotic such as clindamycin, minocyline or ciprofloxacin as monotherapy will have antibiotic-resistant bacteria in their large intestine after 7 days of treatment6. It takes 7-15 years to produce even one new combination. It is likely that resistance to the new antibiotic will be widespread before it has even reached the market.
We need a new and faster route for reviewing the safety and synergistic efficacy of antibiotic combinations perhaps in the same way the flu vaccine or bioterror agents are studied and approved. For example in the first few months of every year, the WHO publishes the current flu strains which are in circulation. In the summer, companies manufacture the specific vaccines with appropriate tests, and the regulatory authorities approve the vaccines. In the autumn, vaccination of populations takes place. Special circumstances justify accelerated development and approval of flu vaccines and bioterror agents. It is now becoming clear that special circumstances should also apply to antibiotic development for common serious bacterial infections. Combinations of old antibiotics could offer a low-cost route to many effective treatments for such infections. A new expedited regulatory pathway for new combinations of old antimicrobials will be the key to getting new combinations to patients.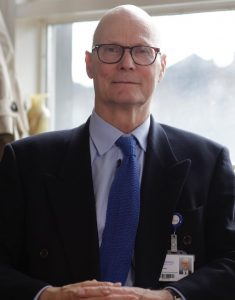 Anthony Coates is the Founder and Chief Scientific Officer of Helperby Therapeutics, a biopharmaceutical company dedicated to developing the next generation of lifesaving antibiotics that he created in 2002 together with colleague Yanmin Hu.
The company has several therapies in clinical trials targeting unmet needs including candidates for skin infections, urinary tract infection and methicillin-resistant Staphylococcus aureus (MRSA), as well as a market-ready oral consumer antibacterial.
Anthony is Professor of Medical Microbiology at St. George's University of London. He leads several research teams, is author of over 150 publications and has edited 13 books. He is a named inventor on 200 patent applications of which 127 have been granted. He is also a member of the Scientific Advisory Committee of GARDP.
The views and opinions expressed in this article are solely those of the original author(s) and do not necessarily represent those of GARDP, their donors and partners, or other collaborators and contributors. GARDP is not responsible for the content of external sites.